Opening in June of 2020, Pyramid Event Venue, located in Lake Mills, Wisconsin, is busily making its way through the pandemic and looking forward to marching right past it. It hasn't been easy. After all, Pyramid owners Jillian Macson and Eli Wedel opened their boutique event space and music venue at the most challenging possible time, with a business model focused on bringing people together for various events - wedding receptions, concerts and birthday parties, just to name a few. But with hard work and adaptability, Jillian and Eli hope to be on the up and up well into the future.
Pyramid Event Venue in Lake Mills has garnered attention from those in both Madison and the Milwaukee area, just a little ways down I-94. Taken from their website, pyramidlakemills.com, "Pyramid Event Venue brings creativity and ingenuity to music goers, event planners, and pizza lovers by hosting events in a customizable space and offering unique, hand-crafted pizzas and cocktails." Sounds like a great combination! Kind of like the combination of WBD and Greenwood State Bank, who came together to assist Jillian and Eli in utilizing the SBA 504 loan program in purchasing the business and building. With a low down payment and long term, low, fixed rates, Pyramid Event Venue was off to the races.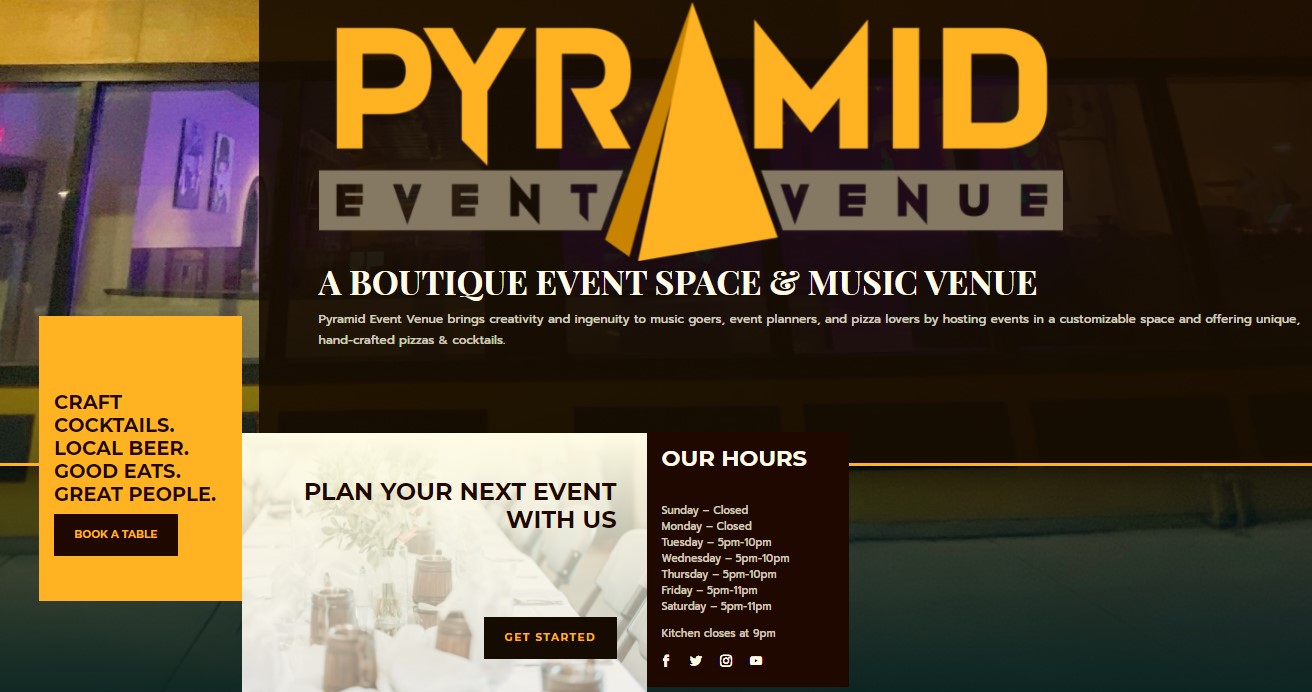 Jillian Macson graciously offered her time in a recent interview to discuss Pyramid's challenges, adapting to Covid, and what lies ahead for her business:
WBD: I think we're all wondering first and foremost, with a business model like yours, how you've stayed afloat through the pandemic?
Jillian: "As a first time business owner, you could say I was a little nervous to begin with, but when Covid kicked in I couldn't believe how bad the timing was. So from the very beginning we had to switch up our business model, with larger gatherings being limited, to say the least. We had to focus more on creating our own entertainment to bring people in, and that's what we've done. Our live music options have really helped us drive traffic, as much as our capacity will allow. We didn't necessarily set out to have a real blues/jazz club/lounge type feel, but that's what we're leaning towards. And the same is true for having a floor layout set up as more of a theater dinner style, but it has worked out so far. And we have a diverse lineup each week of talented musicians, including pianists, blues bands, folk singers and much more, including a popular karaoke night.
Besides providing more entertainment on our own, we took all of the Covid safety precautions very seriously from the beginning. We set up all of our tables in accordance to being socially distant but that also met our Covid seating capacity - about 50 percent of our maximum. We wanted to show our customers a commitment to safety yet still offer a place to feel as normal as possible under the circumstances. In addition, Eli and I ended up working most of the weekday shifts ourselves to try and save money. As much as possible, though, we had our employees working weekend shifts."
WBD: It sounds like you've adapted incredibly well, what lies ahead for Pyramid Event Venue?
Jillian: "With summer on the way and Covid on the way out, we're hoping to start hosting more and more events as the year goes along. Not that we wanted it to happen, of course, but a restaurant here in town recently closed and we're hoping some of those folks will head our way. We've hired and are working closely with a food service company to come in and run our kitchen. They've been terrific, freeing up our time to focus on other aspects of the business. I can see working with them into the future. We'll also be looking to hire more staff in the coming months if not sooner. And, a future consideration is to build a deck behind our building near the water to bring in even more people to enjoy our space."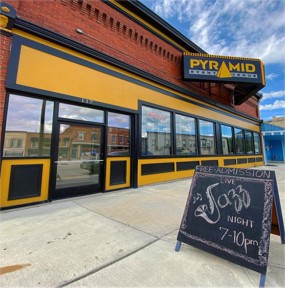 WBD: Last question - how did you find out about the SBA 504, how did it help you in buying the business/building, and what was the experience like working with WBD and Greenwood State Bank?
Jillian: "Eli and I didn't have the large down payment needed that a conventional commercial loan usually requires, so when Jeremy at Greenwood brought up the 504 option, we were all ears. With the 504 loan, we could put down ten percent at a low, long-term fixed rate, which was great. I think it's fair to say without the SBA 504, we wouldn't have been able to purchase the building to open the business. It was huge for us. Working with WBD and Greenwood was great, I would definitely recommend other prospective business owners to work with them as well. Admittedly, the process wasn't quite as fast as we were hoping, but in the end it all worked out."
Thank you Jillian! For all of our readers, please go to https://pyramidlakemills.com/ for more information on what sounds like an amazing place to celebrate an event or just for a night out. And make sure to support your local small businesses!