In today's economic environment, your lending institution has likely discussed tightening up its credit box, in addition to pursuing deposits due to lingering liquidity concerns. If this is the case with your financial institution, the SBA 504 loan is a great financing option to get your projects to the finish line. With all of the benefits to this program, your bank or credit union and the business borrower will be set up for success in a win-win financing scenario.
The SBA 504 loan program has long been known to help improve a borrower's creditworthiness by providing your financial institution with a credit enhancement. When a 504 loan funds, your financial institution is typically at a 50% LTV on your permanent front-end loan.
Here's a typical 504 loan financing structure: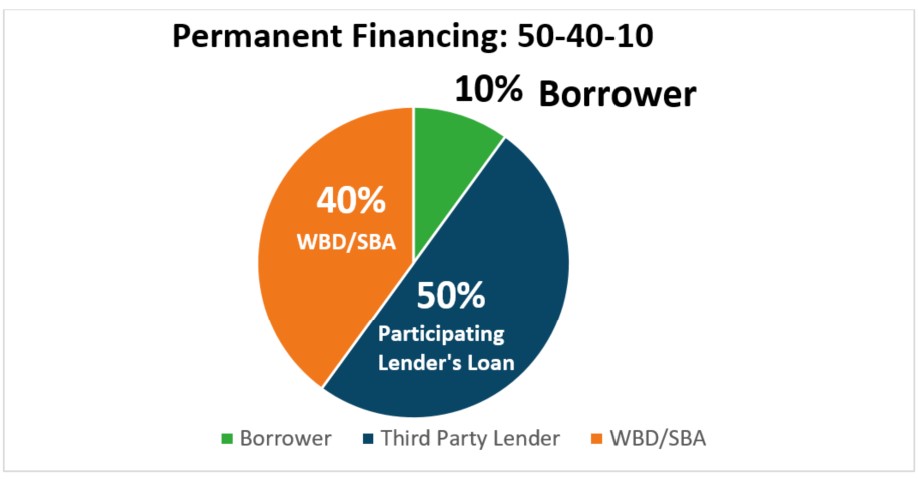 The 504 loan:
Minimizes collateral risk, putting your lending institution in a first lien position with an attractive 50% LTV. The 504 loan is in a second mortgage/second lien position on the project assets. The 504 program does not require the business borrower to pledge personal assets as additional collateral.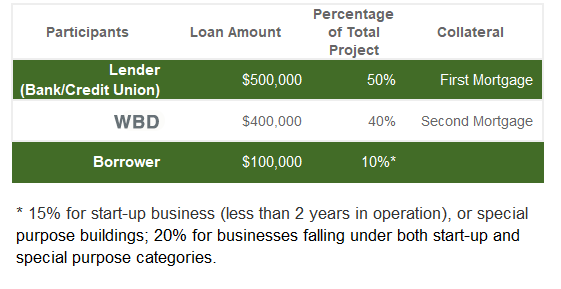 Frees up liquidity – your institution's permanent financing is at 50% LTV vs. your typical 80% LTV conventional loan
Can lead to reduced audit scrutiny
Your permanent front-end loan is not subject to any on-going SBA reporting requirements (i.e. 1502 reporting) or annual SBA servicing fees, which are requirements under the SBA 7(a) loan program
Allows your borrower to retain cash on their balance sheet with lower down payment requirements than conventional financing (as little as 10% down)
And when you partner with WBD on a 504 loan project, your lending organization can continue to set its own rates while earning fees and interest income on interim loans. Your bank or credit union makes its own credit decision, uses its own loan documentation and partners with WBD to facilitate the SBA 504 loan.
To learn more about how the SBA 504 loan can help you and your financial institution in today's challenging economic environment, check out our SBA 504 Basics page or download our 504 information sheet.
If you have any questions or would like to learn more, contact a WBD loan officer to get started. We would be happy to visit directly with your business banking team to provide an overview or further details on the SBA 504 loan program.